Le cinéma est un phénomène de l'Inde moderne, classé en nombre de producteurs de films comme le premier au monde, avec une production de 700 à 800 films par année (et 28'000 films en cent ans !), des budgets considérables, une audience 75 millions par semaine et un star système qui n'a rien à envier à Hollywood.
| | |
| --- | --- |
| Lisa Ray | Les héroïnes sont toujours douces et réservées, les héros tendres mais forts, les vilains sont toujours sournois et traîtres. Les films à succès ne brillent pas par l'originalité de leur scénarios mais par un chatoiement technicolor très professionnel et surtout par de la musique, des chansons et des scènes rêvées. Ces féeries sirupeuses, déconnectées des réalités du pays, dépeignent des histoires populaires ou des légendes à thème mythologique et religieux exploitant l'attitude de dévotion de la société indienne. Les scènes érotiques sont strictement limitées par le bureau de la censure, toutefois avec l'apparition des films " massala ", films légèrement osés, un baiser est aujourd'hui admis. |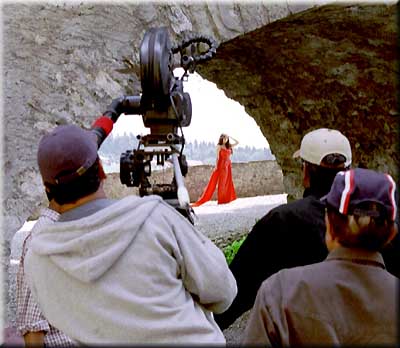 En dépit de la masse de films mélodramatiques, parfois de qualité douteuse, le cinéma indien a produit des films reconnus internationalement : Salaam Bombay, Kama Sutra de Mira Nair, Bandit Queen de Shekhar Kapur...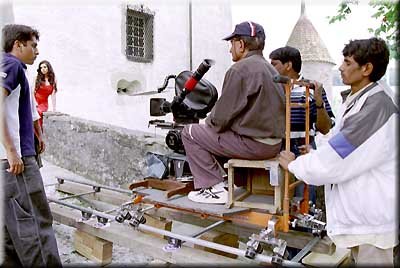 Le jeudi 29 juin 2000, le château d'Oron est devenu la toile de fond de tournage d'une équipe de cinéastes indiens en quête de cadres exotiques et insolites pour une partie de la production du film.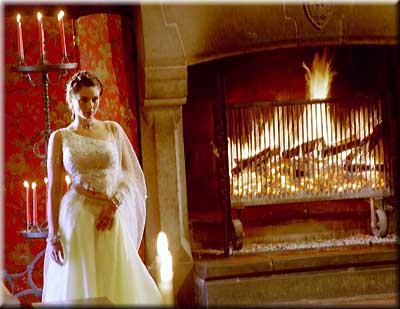 " Kasoor" ( la faute ).
Sous l'oeil vigilant des responsables du château, un monde fantastique s'est déroulé : une trentaine de collaborateurs ont investi le château qui s'est transformé en un instant en Oronllywood :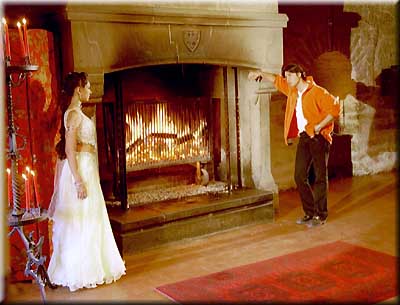 du producteur au teaboy , chacun jouait un rôle efficace dans sa spécialité:
- le cameraman du haut de son fauteuil monté sur rail promenait son gros oeil de verre, sur la scène ou se déployaient les gestes dramatiques des acteurs
- pour les scènes extérieures l'éclairagiste manipulait ses panneaux d'argent dans un angle savant par rapport au soleil
- le réalisateur repérait les meilleurs perspectives
- les maquilleurs pinceau et poudre à la main colmataient le moindre reflet de transpiration des acteurs
- la coiffeuse, un peigne planté dans son chignon guettait une mèche dérangée
- le teaboy distribuait des thés au lait doucereux à la cannelle et le cuisinier, à midi déballait ses préparations de riz, légumes, poulet tandori, galettes de blé et sauces épicées, conservées dans des récipients s'emboîtant les uns dans les autres.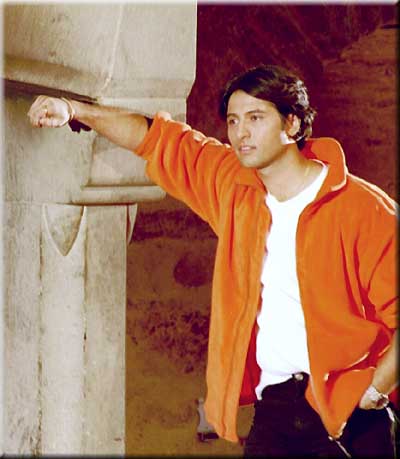 Apoorva Agnihotri
| | |
| --- | --- |
| Lisa Ray | Tout ce monde actif et concentré s'agglutinait autour des deux comédiens. L'actrice, héroïne du film, Lisa Ray, d'origine indo-canadienne, au corps souple et gracile enveloppé de taffetas rouge ou de tulles pastels aux drapés suggestifs, et son partenaire, Apoorva Agnihotri aux expressions chargées d'émotions illustraient le rêve d'un amour privé d' espoir... |
Le thème du film " Kasoor " , la faute, dépeint l'affinité symbolique de la vie moderne indienne et le rêve aux couleurs traditionnelles: un jeune prétendant ( Apoorva Agnihotri ) se languit d'un amour authentique pour une éblouissante jeune femme avocate, il en rêve. Celle-ci l'ignore, car follement amoureuse de son client, un ignoble meurtrier dont elle ignore les actes, qu'elle défend avec succès devant le tribunal. Par la suite, elle s'aperçoit de sa faute, écoeurée, abusée, elle abat le malfaiteur. Conclusion, la malheureuse héroïne fini par être accusée de ce meurtre et aussi aura perdu à tout jamais l'amour véritable d'Apoorva.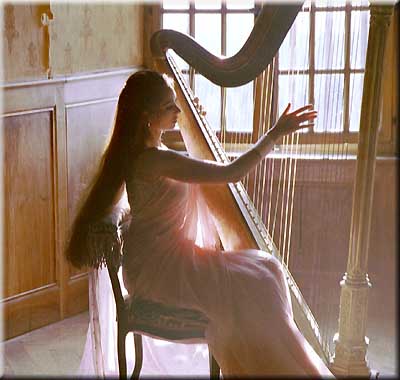 Pour la séquence du rêve le château a été la fresque idéale choisie par le réalisateur; la salle de Justice garnie de 67 bougies et le feu de cheminée allumé exprimaient les mouvements passionnés du coeur en pâmoison du prétendant et rehaussaient l'attirance érotique de sa bien aimée, le tout sur un fond d'inlassable musique indienne. Dans la bibliothèque, un son imaginaire émanait de la harpe posée dans l'embrasure de la fenêtre, jouée par la belle héroïne. Sa chevelure était libre et abondante, elle était drapée dans un sari rose, ses doigt translucides éclairés par le coucher du soleil semblaient issus d'un conte de fée...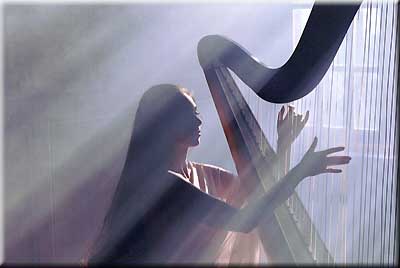 Quand au crépuscule la petite troupe a remballé ses affaires, par enchantement ce décor éphémère s'est effacé et le château d'Oron a refermé ses lourdes portes sur une belle histoire de plus dans sa mémoire.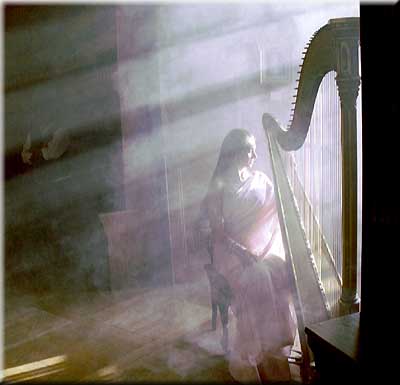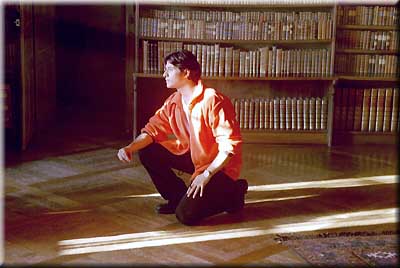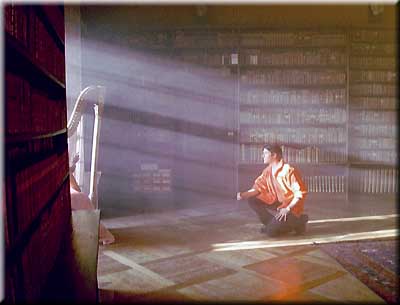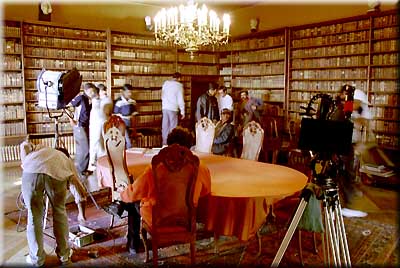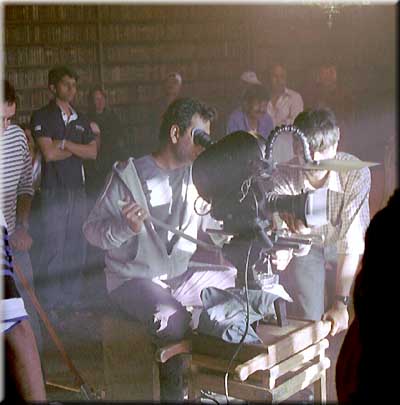 Catherine Veron
* Sources: Le monde diplomatique ( juin 98 ), Lonely planet ( 1997 ), India, Orbis, London

Producer: Mukesh Bhatt
Director: Vikram Bhatt
Starring: Aftab Shivdasani, Lisa Ray, Apoorva Aghinotri, Ashutosh Rana
Music: Nadeem Shravan
Lyrics: Sameer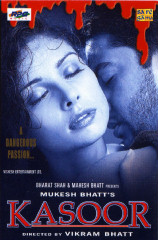 The Bhatt Family have always made stylish thrillers. Sadak (1992 - Sanjay Dutt, Pooja Bhatt) was a blockbuster hit with fantastic music and top notch performances. Criminal (1995 - Manisha Koirala, Nagarjuna, Ramya Krishnan) was a bit disappointing but had it´s classy moments. 1996 saw the release of the low-budget, but high quality Fareb (1996 - Suman Ranganathan, Faraaz Khan, Milind Gunaji), which had a gripping plot and a fine breakthrough performance for heroine Suman Ranganathan. The Bhatt´s scored again in 1996 with Dastak (Sushmita Sen, Sharad Kapoor), a suspense thriller based on a crazed stalker and Miss. Universe. After Dastak came Sangharsh (Priety Zinta, Akshay Kumar, Ashutosh Rana), a disappointing remake of Silence of the Lambs which, again, had it´s strong points. The Bhatt´s last thrilling outing was in 1999 with the moderate success of Kartoos (Sanjay Dutt, Manisha Koirala, Jackie Shroff), which was a fast paced suspensful ride from start to finish.

Finally, in 2001, the family is back with Kasoor, a stylish suspense film that hits (most of) the right notes. The film has a very arty treatment with all the commercial ingrediants, not to mention a superb performance from Aftab Shivdasani, who, post-Mast proves that he´s here to stay. Kasoor also introduces Canadian model Lisa Ray.

Lisa Ray plays Simran Bhargav, a lawyer who defends Shekhar Saxena (Aftab Shivdasani), a millionaire accused of gruesomely killing his wife and maid. Shekhar plots to win his lawyer´s trust by seducing her, after which she believes in his innocence and fights for his cause. Simran succeeds in winning the case. The following morning after spending the night with Shekhar, Simran finds in his closet a typewriter that holds the key to the mystery of the murders, and disproves Shekhar´s innocence. Simran, feeling betrayed, finds herself caught in a web of seduction, malice, and murder.

Aftab Shivdasani is first rate. After a sterling debut role in romantic fantasy Mast, Aftab proves his versatility and plays the anti-hero with panache. His performance is one that is sure to win him accolades across the board. A well-etched character is extremely important to an actor´s performance, and even with such a character, Lisa Ray´s performance is, at best, average. She looks stunningly beautiful, but an actress she is not. With flat dialogue delivery and wooden expressions, about all Ray manages to do is take her clothes off. Still she has performed well enough in the court scenes. Ray has already signed Vikram Bhatt´s next film, coincedentally, another suspense thriller with Fardeen Khan. Fardeen has improved with leaps and bounds since the awful Prem Aggan (Go watch RGV´s slick suspense film Jungle if you don´t believe me). Hopefully, Lisa Ray will do the same. Of the supporti ng cast, Apoorva Aghinotri has a blink-and-you-miss-me role, which is sad because he showed plenty of potential in Subhash Ghai´s Pardes. Ashutosh Rana´s performance is quite good as the cop.

Kasoor is not without it´s many faults. It dangerously teeters between being a love story and a slick suspense thriller, deciding in the last 20 minutes to go for thrills, rather then tears. Director Vikram Bhatt does a fantastic job pre-intermission, but seems to lose his way for a while in the second half, only to redeem himself with a great climax. The pre-intermission proceedings are very well executed. Many found the first half of the film to be slow, but I found it to be rather well done. Bhatt is also hampared by his need for commerciality, throwing in some unnecessary songs and some awkward moments of passion (Not a film for the kids).

Nadeem Shravan´s excellent music is definitely a plus point for the film, with "Kitni Bechain" and "Mohobbat Ho Na Jaaye" being the numbers that stand out. The cinematography is also fantastic, capturing some gorgeous locales. Technically, the film is well-made. Some crisper editing could have made this film killer.

All in all, Mukesh Bhatt´s Kasoor packs a certain amount of punch with its fantastic plot, great music, and a swell performance from Aftab, but could have been in a whole other league with a different director like Mahesh Bhatt. Vikram Bhatt showed a great deal of talent with Fareb, in which he took a cast of all newcomers and made a great film, which managed to do good business at the box office, suprising everyone. He was also helped by fantastic music and a fine performance by main lead Suman Ranganathan. Kasoor doesn´t disappoint, but is brought down by its screenplay in the second half and, sadly, Lisa Ray. Still, Kasoor is worth a viewing or two, and was definitely worth the wait.
Autre critique: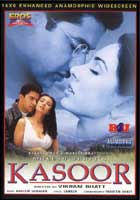 hravan on the other hand provide us with simple, yet refreshing compositions.

Kasoor has the Nadeem Shravan stamp on it. Yes those same simple beats, but there is a small, yet effective twist to their usual compositions. There has been a lot more focus on the saxophone, and trumpets along with experimentation with the piano going on in these songs. The result is not earth shattering, but a lot more interesting to hear. As for vocalists, there are three singers for all six songs! The usual hindi soundtrack these days consists of anywhere from six to eleven different singers, here we have the crème de la crème of playback singers. Kumar Sanu, Udit Narayan and Alka Yagnik.

Side A begins with the song that is on everyone´s lips, the song which has been released as their first teaser. Kitni Bechain Hoke sung with ease by Alka Yagnik and Udit Narayan. The song will definitely be a chart topper. Nadeem Shravan have done an awesome job with their musical composition in this track. Whether it be the saxophone and piano trills which open the songs or Alka´s sensuous yet innocent vocals which carry the track, this one is a definite crowd pleaser. Udit compliments Alka´s smooth vocals, but the song definitely belongs to Alka who infuses a certain playfulness into this seductive track. Sameer´s verses for the song are somewhat different, but they still keep in the boundaries of a typical Sameer verse, so there is no change from him. The perfect way to start off the album.

Zindagi Ban Gaye Ho Tum is that typical Nadeem Shravan track. We´ve heard the tabla/jhankar infusion backbeat before, we have heard a variation of the same lyrics, but it is still interesting. Why? Well personally I liked the piano trills which occasionally popped up in between lyrics. The small and simple addition to the typical score works wonders. Alka and Udit glide through the track with ease, every note is hit and overall the song, although pleasurable, doesn´t really stray from the mainstream and does not provide any challenge for the two vocalists.

Mohabbat Ho Na Jaye is an attempt by Nadeem Shravan to break away from their image. The track has a distinctively westernized feel, but not in the techno whiplash way, more in the soft melodious way. This track isn´t instantly likeable, but the verses specifically sound different and that adds to the appeal of the song. Alka Yagnik and Kumar Sanu do a commendable job with their vocals, but they almost seem to struggle with the chorus bit of the song. Sameer does his usual again, not really providing anything new in terms of lyrics. This track takes a few listens to get used to.

Koi To Saathi Chahiye begins Side B of the album. This super solo is sung with verve and gusto by Kumar Sanu. His vocals glide over the lyrics like silk on skin. He does a commendable job effortlessly. The composition itself is not typical of Nadeem Shravan but again it is not really that different either. However the song is a winner, and that´s for sure. Sameer also wins with his lyrics, the melancholy expressed through his penmanship is effective.

If Kumar Sanu can have a solo, then Alka Yagnik also gets her solo. Dil Mera Tod Diya has to be the second best song on the album. It´s an Alka powerhouse, a hands down winner. Her vocals aren´t provided with much of a challenge, but she still manages to breath life into this track. Sameer´s lyrics are wonderful, he really excels with this track and provides us with some memorable lines. The composition itself is nothing out of the ordinary, but thanks to the lyrics and vocals, it´s a pleasure to listen to this one!

Kal Raat Ho Gayee brings Kumar Sanu and Alka Yagnik back together to end off the album. The song is a decent effort, but it pales in comparison to the other tracks on the album. The reason for that may be the fact that the song is recorded on a lower frequency than the others. The tabla/jhankar infused beats are back in the compositions along with the violins. Nadeem Shravan don´t really stray from their formula here, they keep it simple. Sameer who impressed with the lyrics for the previous two songs goes back to his normal self here and provides us with those typical lyrics. Overall the song is enjoyable, but not as enjoyable as any of the other songs on the album.

In total Kasoor is not a classic, it´s not mind boggling, it´s not earth shattering, but it is good, simple, loveable music. Nadeem Shravan don´t really experiment here with different variations of music, they stick to their usual for most of the album however the experimentation with instrumentation in the songs is what makes them shine. With the exception of Kitni Bechain Hoke none of the other songs stand out as different. Sameer does the usual job with his lyrics and although he briefly does surprise us with lyrical perfection, it is overshadowed by the typical lovey dovey stuff he is known for. Alka Yagnik, Udit Narayan and Kumar Sanu do a great job with their vocals, there is no big challenge, but at the same time they do manage to make a difference to the album.

Vikram Bhatt has done a good job at choosing compositions for this Lisa Ray/Aftab starrer. In the tradition of Bhatt films, he has chosen music which is not too flashy, but likeable and endearing. Although Kasoor is no Aashiqui it is not a typical score for today´s times. Kasoor will stand out due to it´s simplicity and the fact that it is original compared to the other soundtracks on the market these days. If music has an effect on the collections of a film, then Kasoor is definitely on its way to becoming a hit.
|Home | châteaux du canton | châteaux suisses | entrée du château

©Les châteaux suisses. Die Schweizer Schlösser. The Swiss Castles